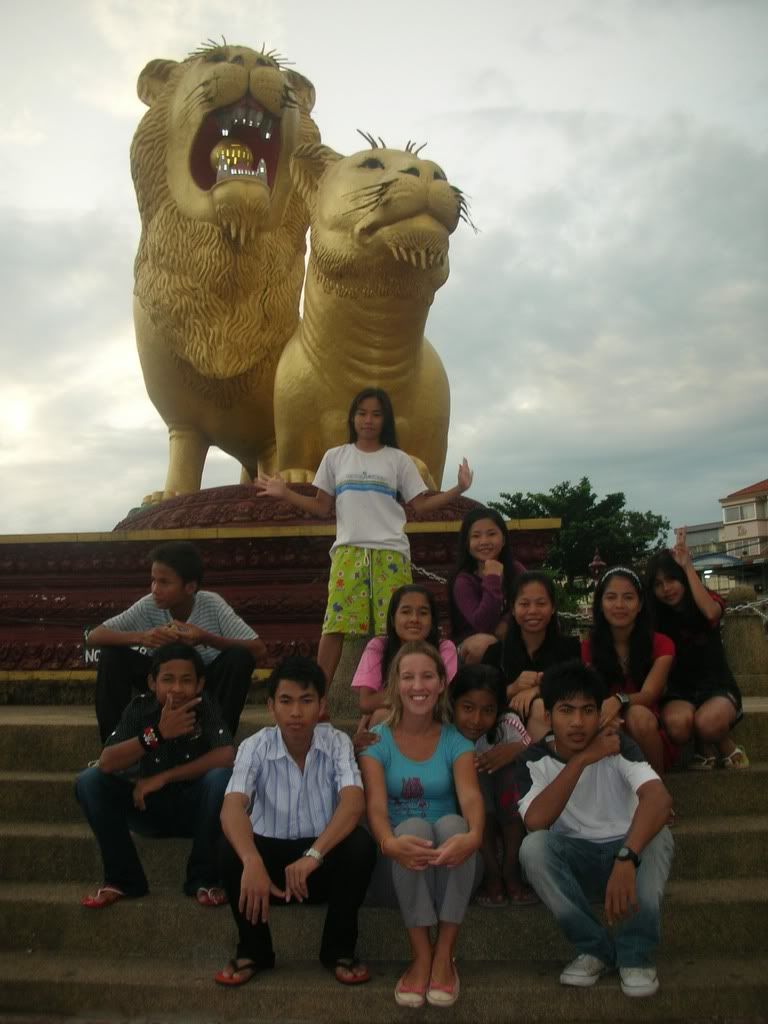 Me, the children and the Lions of

Shihanoukville
At the weekend we took the ten children from the Smile Project to the beach. It was never going to be easy given how things here are generally run.
We
had
arranged the driver and the ten children. They had been briefed on what they needed to bring and at what time they need to be ready. Would things run smoothly - unlikely?!
6.45am on Saturday morning we made our way to
CDCC
(one of the shelters) to pick up the first lot of
children
. The first battle was to be with the mini bus driver who had unilaterally decided that he would now be bringing us home at 9am on Sunday rather than the 2pm we had originally agreed upon. Apparently it was for a "meeting" in
Phnom
Penh
... Yeah mate, sure thing, a meeting of minibus drivers, in Cambodia....on a Sunday- These conventions
must
happen all the time.
OK
enough sarcasm - More like he had a second job on!
After negotiating a deal (price reduction to come back at 9am) we were on our way to
CCH
to pick up the remaining children. Surprisingly they were ready and even one of the children who had told us he couldn't come (5 minutes before we were due to depart) suddenly was available. We also had a Khmer teacher come with us which was a bit of a surprise but she was lovely and it was good to have an adult who spoke Khmer!!
We left shortly after the driver had loaded his various "jobs on the side"into the minibus. We were carrying an assortment of vehicle spare parts which we annoyingly dropped off on the way at various points. About 4-5 hours later we made it to
Sihanoukville
and the beach.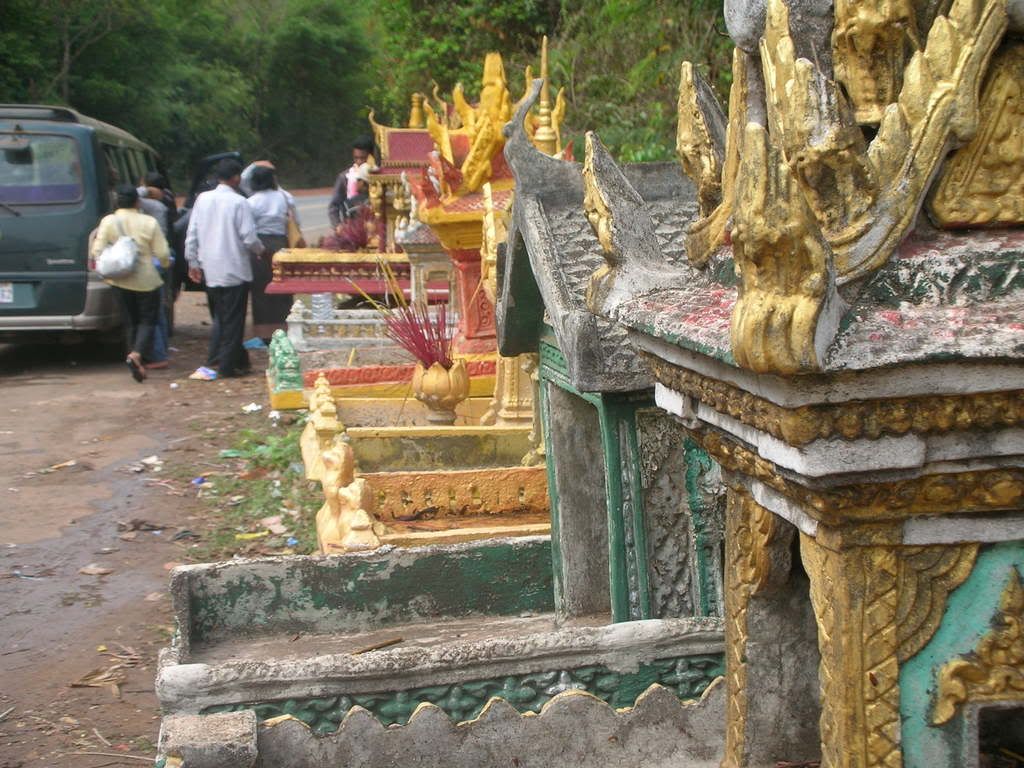 The children wanted to stop and pray for a safe journey at this half way point full of pagodas
We were staying in Youth Hostel style accommodation at the Don
Bosco
Youth House. Don
Bosco
is a Catholic set up that trains young people in the hospitality industry. They have training hotels and our accommodation was annexed to the hotel. Separate dormitories for boys and girls (of course). The rooms were just boxes with thin
mattresses
on the floor. They were OK b
ut
I was glad I had got a silk sleeping bag with me though as the other option was just a blanket put directly on to the
mattress
....
Then we went to the market to get a supply of food to eat at the beach. The older children and I went with the teacher into the market whilst the boys got drinks. Our mission was to buy prawns, and lots of them.
The market in
Sihanoukville
is surprisingly clean (must be the concrete floor) and all of the fish stalls were great. The prawns can be huge and I saw some amazing pieces of what I think were tuna. However, it quickly became clear that none of us knew how to tell a fresh prawn... I took the executive decision that "the whiter/clearer it was the better" for an uncooked one at least(!) and we proceeded on that basis. We wandered around looking and then chose a stall where the price was good enough, the prawns big enough and the owner friendly enough. 1kg of fresh prawns was about $7. We got a couple of kilos and then had to find a place to cook them....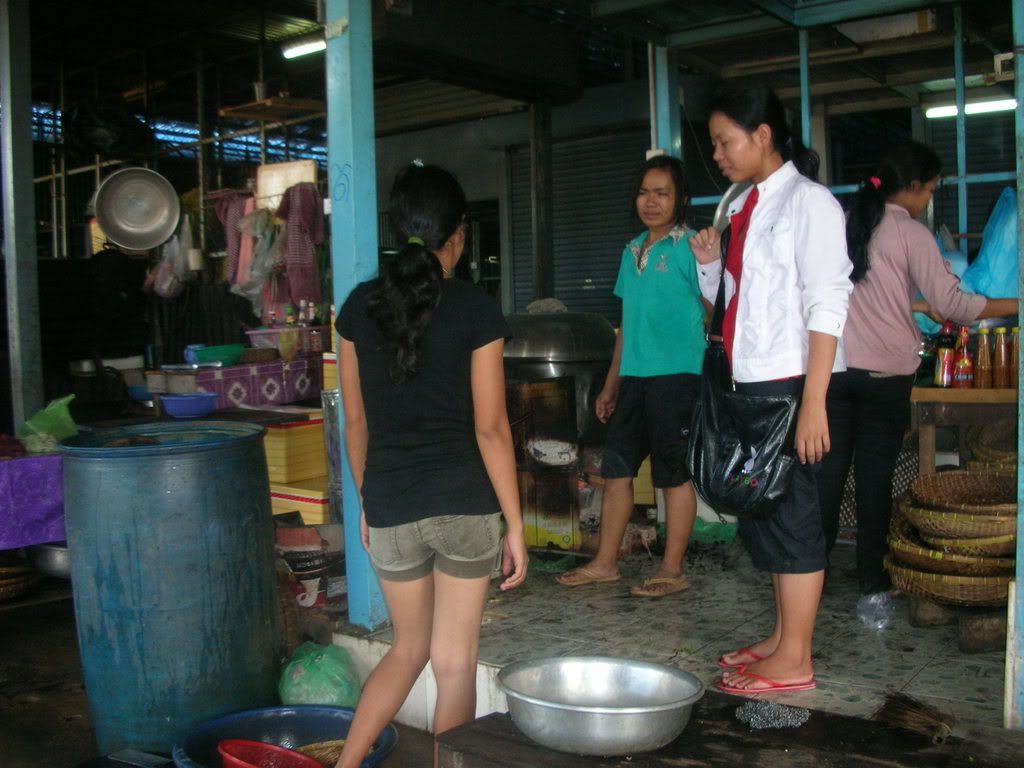 The cooking stall
One of the children told me that a small child (wearing a school uniform) had just offered to cook them for us.... I was surprised - he seemed young to be cooking but then someone explained that he meant his Mum would do it (phew!).
His Mum had a stall with the sole purpose of cooking people's purchases. We discussed what vegetables would go with the prawns and got some
samphire
for about a $1 and some fresh pepper for $0.50. The Mum then cooked it all up. Yum!
Meanwhile, one of the older girls and I went to buy cooked rice ($5 for 13 huge portions) and Cambodian fruit. The whole thing must have taken about 40 minutes so the people left in the minibus were baking by the time we got back. Hungry we all headed to the beach to feast on prawns before swimming - all of this for 13 people cost about $23.
We managed to get all of the kids on to the banana boat. The H&S is non existent here so it did not matter that when we were ready to go on the boat rain was pelting,
visibility
virtually nil and thunder could be heard... It all added to the experience! I was genuinely scared due to risk of lightening.
You will see that I was then buried and made into a mermaid...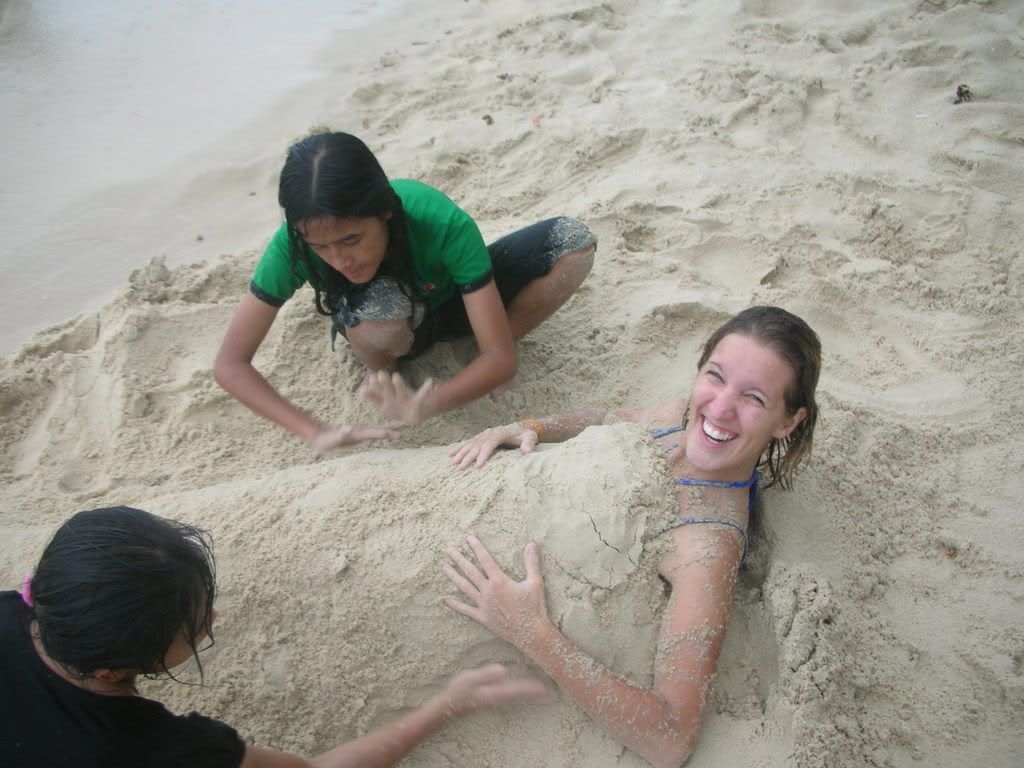 I am laughing but there is sand in my contact lens and I can't breathe due to compacted sand..!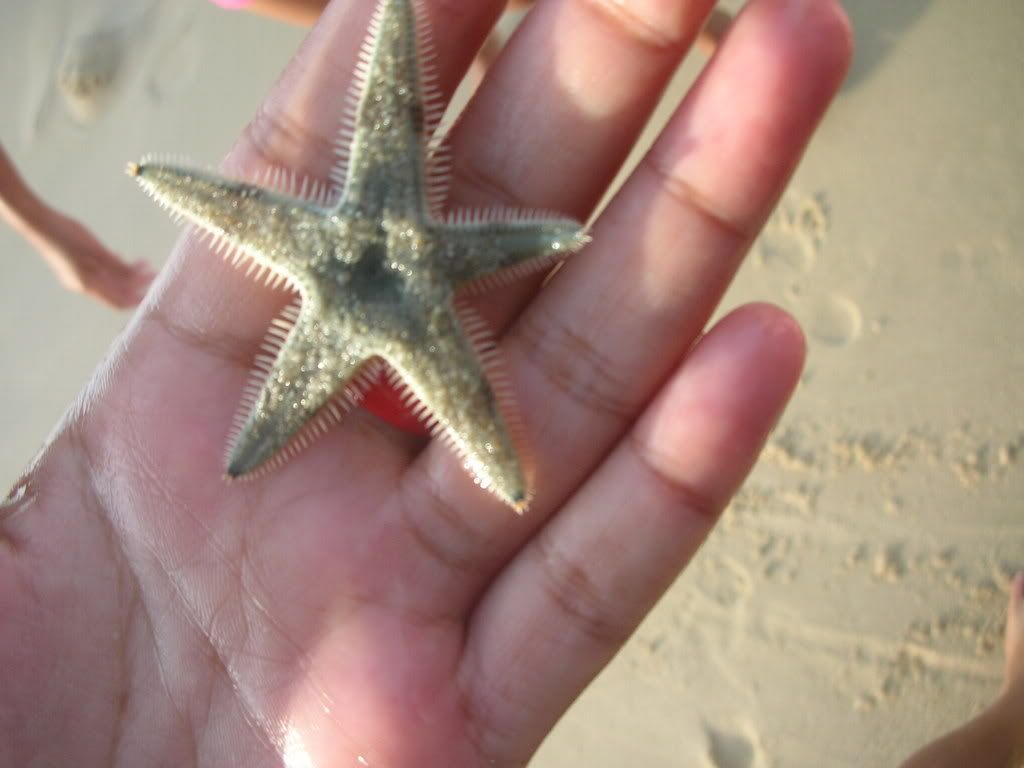 We decided to take the kids to eat pizza for dinner as this is what they said they wanted to try (....most of them ate rice in the end at the pizza place!).
We got into the van to leave the hostel for dinner with our driver and realised there was a random bloke inside hiding from the guards. I wasn't surprised - these things happen in Cambodia! Turned out he was a friend of the driver escaping from the training hotel so he could go and drink beer with him.... Good job we had decided on a
tuk
tuk
to bring us back.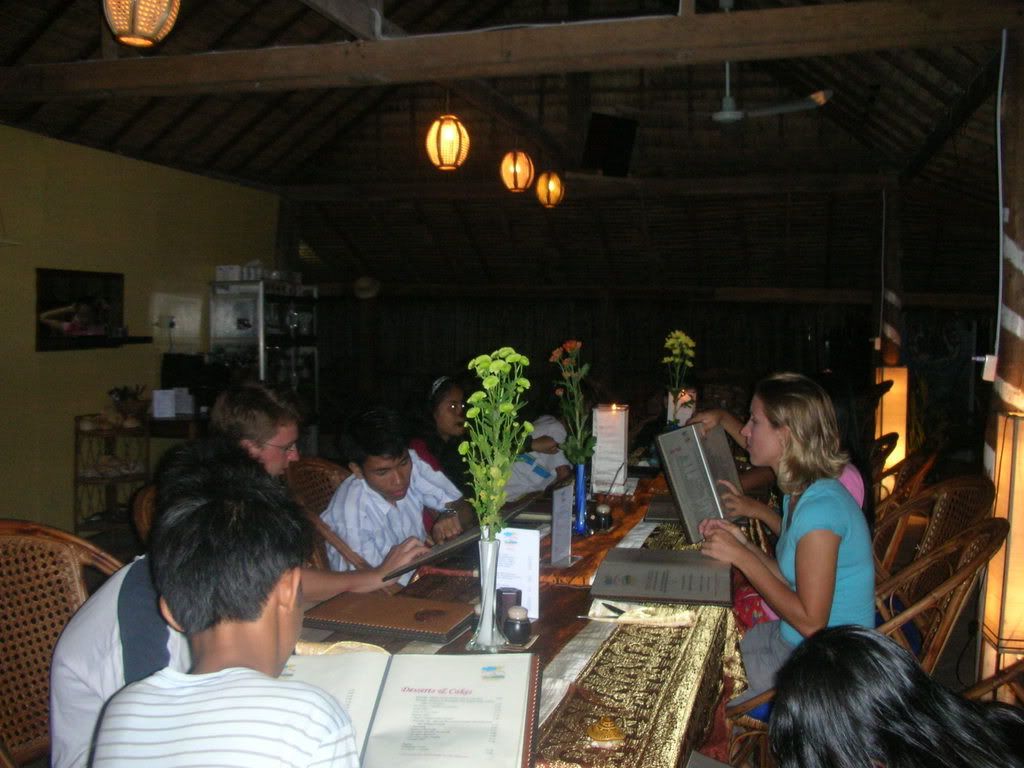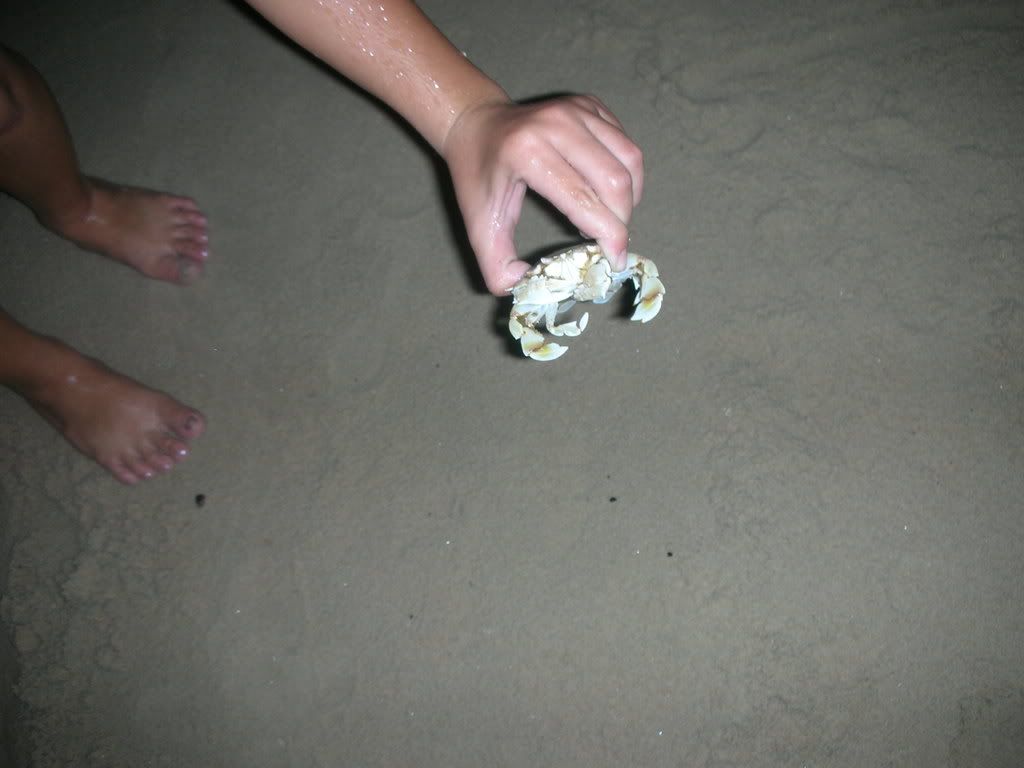 The children loved the night walk we did on the beach - for some it was the first walk "for fun and in nice surroundings" they had done since arriving at the shelter - Walking is not much of an option in PP. Worryingly, some grains of sand glowed in the dark though - I am not aware of nuclear activity in Cambodia but still....
After a rough nights sleep, one child kept kicking me in her sleep and the floor was hard, the kids got up after a lazy start. Usually they are up at 4am and this was their inital plan. However, I was luckily and they slept in until 6am~and were immediately ready for the beach! After a Khmer breakfast of noodles and
unidentifiable
parts of pig we hit a different beach before heading home.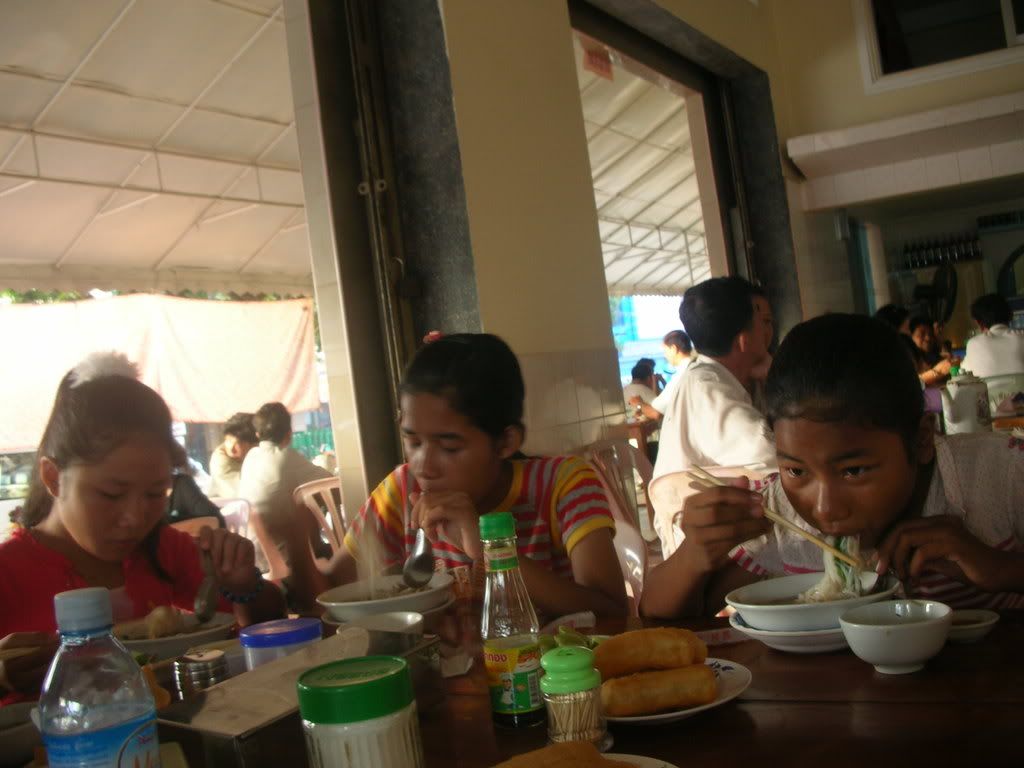 The driver was insistent we left at 8.30am but we held our ground. This, on reflection, was a mistake because he then drove like a bat out of hell until we changed drivers about an hour later. I thought I was going to die. Speaking of which I now know there is only 1 morgue in Cambodia with only 3 fridges which they turn off at night. Nice.
Apparently it is only necessary to stop at the line of pagodas
on the way
to Sihanoukville - I think it may have been more useful on the return journey. However, we lived and arrived back in PP
with
half an hour to spare before the "meeting".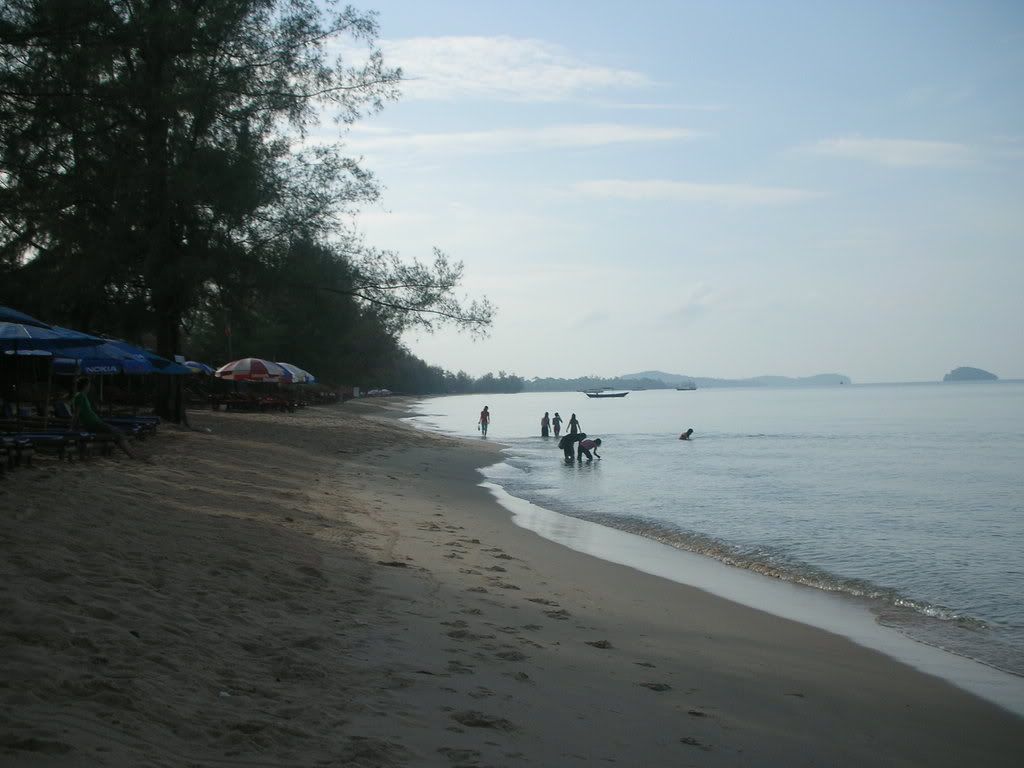 The second beach -

Otres